No parent is a stranger to the challenges that social media and devices cause. The COVID-19 school, sport and social activity closures have only exacerbated the problem causing kids to spend more time indoors and away from friends. Many times the easier thing to do is to let your child plop themselves in front of their gaming console or the TV but as all parents know, this comes at a detrimental cost to your child's health. As parents, it's our job to help guide them in a safe direction and to help them understand that there are reasons for screen time limits (it's not just "because I said so").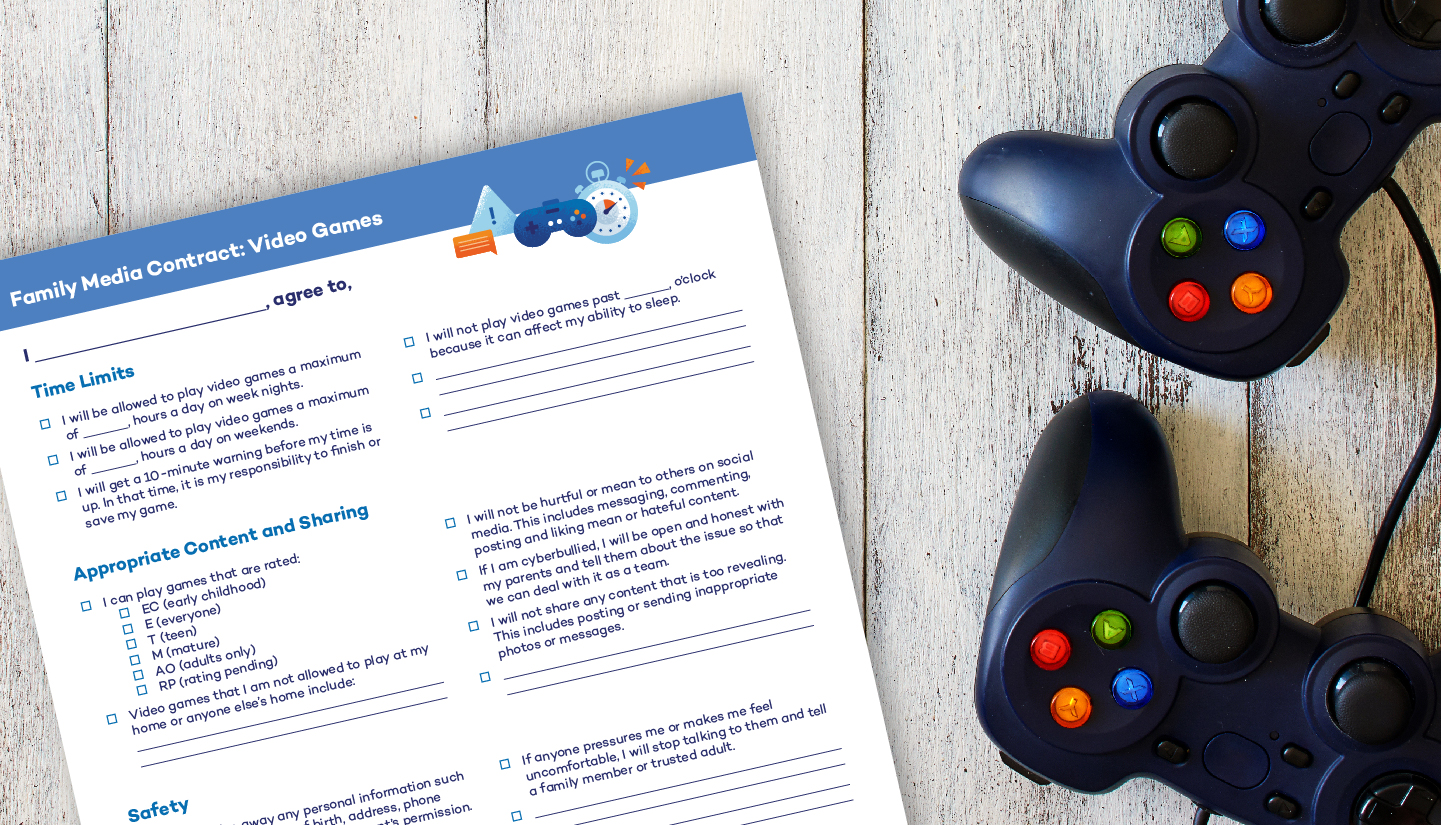 Consider External Factors
Help your child understand the health risks associated with too much screen time or dangerous media use (inappropriate chat rooms, non-kid friendly sites, unrealistic body standards, etc.). What you talk about all depends on their age. Of course, teens face way different issues than younger kids. As parents, we also need to work to better understand how they are feeling during this time as media is a huge place holder for socializing, milestones (prom and graduation) and extracurriculars that have been removed from their lives.
This also means that media agreements should be adjusted with our current climate in mind. Kids must understand though, that this increase in screen time is dependent on their access to other activities and socialization. Once the world begins to shift closer to what used to be our normal, so too should screen time.
In order to create a reasonable agreement that kids will actually follow, there needs to be an open discourse. Ask your kids questions and encourage them to share their feelings about spending time online. Some questions to spur the conversation could include:
- What do you think healthy screen time looks like?
- How does online school make you feel? What do you like/dislike about it?
- Do you feel more tired after online school or in-person school?
- Do you miss going to school? What do you miss most about going to school? - Have you ever seen someone being bullied online? How did you react? Do you feel comfortable letting us know if someone or yourself is being bullied?
- What are some screen-free activities that you love?
Are there any new hobbies you'd be interested in learning? (Swap out with sports, instruments, etc. based on your kid.)
Talking through the various aspects of online time will help you come to a reasonable agreement — reasonable screen time depends on your family's lifestyle and values but you should note that keeping screen time to a minimum is recommended if possible. Once your family is comfortable with your media plan, you can put it into writing by using a screen time agreement printable (provided below by Panda Security):
Use one or more of the agreements depending on your child's age and interests. Our world is rapidly changing so don't forget that these should be periodically reevaluated and that media conversations should always be an open topic. You'd rather have your child bring an issue to you than break the agreement behind your back. It also helps instill the importance of positive screen time if you and your partner partake in your own media agreements – not only is it good for you too but it will also set a great example for your kids to follow!